Our PLAYGROUND orchestra project was a hugely successful music for primary schools programme. This programme saw us bring a 29 piece orchestra plus a singer and a conductor to twelve schools in Dublin 15 in association with our projects partners, Draíocht.

Music for Primary Schools- The Orchestra Project
The orchestra was made up of all the top freelance talent in Ireland. This includes the top string, woodwind, brass and percussion players. As the project took place from late November through to mid-December the repertoire included a selection of Christmas themed tunes. We performed the holiday favourite "A Christmas Festival" and Leroy Anderson's "Sleigh Ride". In addition to these well-known classics the orchestra performed a number of Christmas medleys arranged by Paul Frost. The medleys contained lots of well-known Christmas songs that the children could sing along to. All in all the repertoire was perfectly pitched and the children has a great time singing along and learning about the instruments of the orchestra.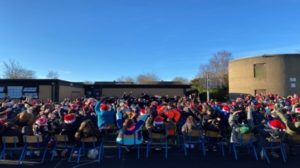 The aim of the project was to bring the magic of the Christmas & the instruments of the orchestra to every school we visited in a Covid Friendly way. As a result we performed outdoors for the children. On the days when the weather prevented us from playing outside we performed in the school hall.  This performance was being streamed live into every classroom.
Where did the project come from?
This magical project developed on from a project that we first worked on with Draíocht in December 2020, to develop music for primary schools. The original project involved three musicians going into a school yard in St Francis Xavier School in Dublin 15. During these days, the musicians performed for the pupils during their lunch break! From there the original project, PLAY developed, which we will feature in a separate blog post. To summarise, PLAY involved an ensemble of 5 musicians or a quintet. This group of musicians performed for the children during their lunch break in their school yard!
The schools we performed for included Scoil Oilibhéir, St Ciaráin's NS, Mary Mother of Hope JNS, Castleknock NS, St Philip the Apostle School, St Mochta's NS, St Patricks NS, St Franics Xavier Junior and Senior Schools, Sacred Heart NS, Scoil Thomáis and St Benedict's NS. In Total 7000 children were involved with the PLAYGROUND orchestra!

Feedback from Schools:
Here's what some of the schools had to say
Thanks again to you and all involved in providing such a wonderful musical experience for our school community today. The children loved every second of it – the adults too! They were enthralled by the music, the instruments, the beautiful singing and the energy created! It put smiles on lots of faces.
Alma Moran
Mary Mother of Hope JNS, Dublin 15
I just wanted to drop you a quick line to say a huge thank you to yourselves and all the musicians who came to our school last week. We have been inundated with emails from parents who were at home watching with their isolating children or whose children came home raving about the whole experience. There are so many children here and in other parts of Dublin 15 who might never get to experience live orchestral music like this in their lifetime so it is such a treat and I have no doubt will inspire students.
Séamus MacConámha
St Patrick's NS, Diswellstown
All in all the PLAYGROUND orchestra was a big success. We intend (and hope) to bring this wonderful orchestra to many more schools!
If you're an organisation looking to develop an educational orchestral project reach out and contact Mobile Music School to discuss what you have in mind!