The year 2020 was definitely an unusual one, but here at the Mobile Music School, we still managed to have some incredible highlights throughout the year, delivering music classes and workshops for schools nationwide! Read on to learn more!
Our new Booking System
We developed a brand new online booking system, to make bookings for our clients even easier. We also organised our annual training day via Zoom this year, which was a huge success, and really started Term 1 off on the right foot!
New Team Members
We were delighted to welcome new members Shane Cavanagh, Roisin Lane,  Niall Preston, Mary Walsh and Caroline Barnes!
Covid Measures
This year, we've incorporated brand new Covid measures, to ensure the safety of all our staff and clients. To learn more about these measures, click here.
Our Bodhrán Workshops
This year, we have developed and implemented some brand new Bodhrán workshops for schools. We bought plenty of brand new bodhrán's, and the students have been loving them so far!
"The TYs loved the workshops – Niall is superb" – Ashbourne CS
Our Complementary Online Programme
Our fantastic tutor Karen has designed a brilliant 10 week course, all about teaching music in the classroom. This course was rolled out online and offered completely free to primary school teachers nationwide. The infographic below touches on why music education is so important: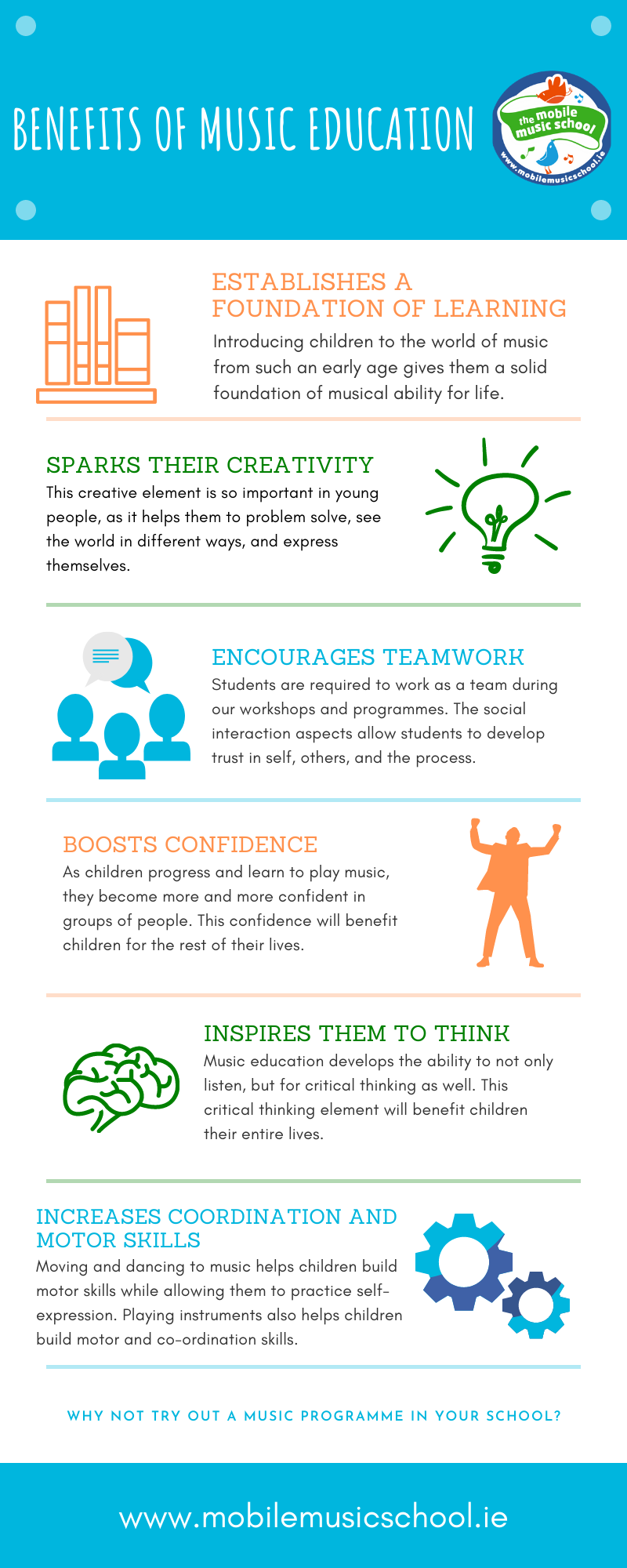 Schools visited
From September to December 2020, we were delighted to have worked in 34 schools over 11 counties!
Online Workshops
This term, we offered online Zoom workshops to libraries and schools nationwide. Our theme this term was 'Elf on the Shelf', just in time for Christmas! During the workshops, the children explored sounds that were based on an excerpt from "Elf on the Shelf". Each child will participate in lots of musical activities based on hit Christmas musical "Elf on the Shelf". These workshops were a great success, with us delivering them across 7 libraries, for 14 dates in total, working with Wicklow, Tipperary, Cavan, South Dublin and Kildare County Council. Check out the feedback below!
Feedback
We received lots of kind feedback this term- we've selected a few testimonials to share below:
"Thanks again so much for today.  The kids had an absolute blast – they loved every minute of it!"- Loreto Crumlin
"They LOVED the Musical Theatre hosted by Roisin." Glenstal Abbey School
"Karen- Thank you so much for the music workshop yesterday, all our service users enjoyed listening to the different instruments and joining in with the singing. They loved your outfit , it got us all into the Christmas Spirit."- Stewarts Care, from our Elf on the Shelf Zoom Workshops
"The workshop last night was a huge success, it was so enjoyable and I am sure that the young people enjoyed it, it was fantastic that the Mobile Music School was able to provide it through the medium of Irish and míle buíochas to you and Kevin for facilitating the workshop." -Feachtas
PLAY- School Yard Project
This month, we delivered a brand new and exciting project! This project was school yard performances we did in St Francis Xavier Junior and Senior Schools in collaboration with Draiocht. Our talented tutors came down to the school yard, and played music for the classes, over 7 days in total. The children saw performances from the trumpet, violin and clarinet! Later on, the musicians had a Zoom Q&A with the children.
Term 2 and 3 for 2021
We are really looking forward to coming back with a bang in 2021! We are available for both face to face workshops, and Zoom based workshops. The workshops we are currently offering are classroom music, ukulele, percussion, drumming and Bodhrán at primary level, and ukulele, percussion, drumming and Bodhrán at secondary level.
Interested in booking a programme or workshop with us for 2021? Contact us here.