Music Tutor Job – The Mobile Music School Are Hiring!
Are you looking for the ideal music tutor job? Look no further!
Who We Are and What We Do
The Mobile Music School delivers interactive, educational and fun based music programmes and workshop in primary and secondary schools, libraries and arts centres throughout Ireland. We currently run programmes throughout Leinster, Cork & Tipperary. Established in 2011 we have grown from working in seven schools annually to working in excess of 100 schools annually.
Behind every successful music workshop or programme is our dedicated team of professional tutors. It is for this reason that we are recruiting professional, experienced and dedicated music tutors with a passion for music education to join our team.
Why Join the MMS Team?
Joining the MMS team has many benefits for our tutors:
Music tutors can pick their own hours and class locations from a range of over 100 schools at primary and secondary school level.
Our curriculum manager offers ongoing support with lesson plans and provides a range of teaching resources.
We also hold an annual training day for tutors with talks, activities, workshops and a handbook to ensure tutors are fully prepared.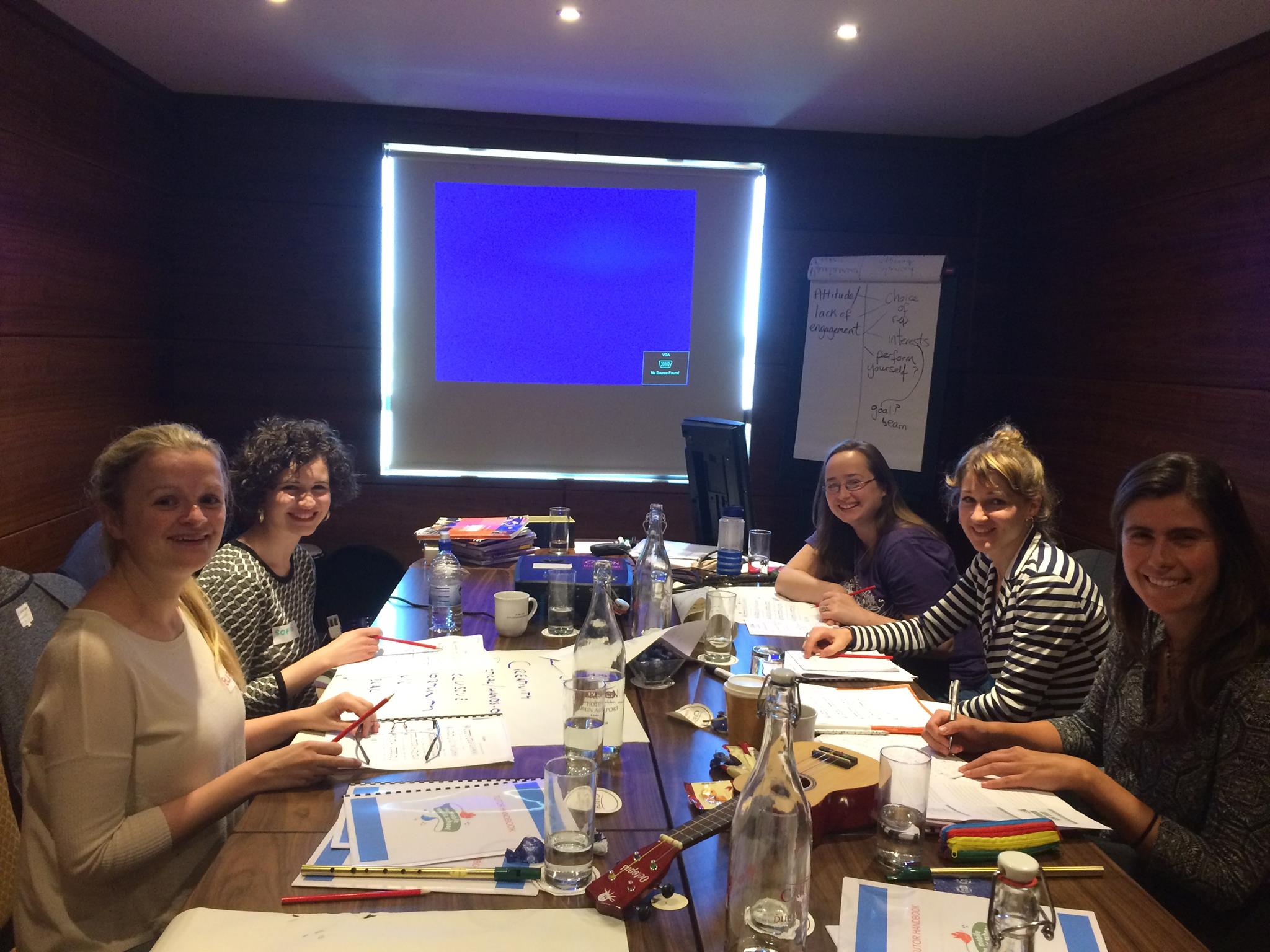 2017 Tutor Training Day
Our Ideal Music Tutor
We are looking for a musical, fun, outgoing and energetic qualified and experienced music tutors to join our team to deliver our programmes in schools who possess the following:
Passionate about music education
Outgoing
Energetic
Professional
Personable
Enjoy working with children & teenagers
Comfortable with large class groups
Willing to travel
Have experience teaching
Key Responsibilities
Teach music programme in a classroom setting in primary or secondary schools
Ability to devise and deliver lesson plans based on our course curriculum
Ability to build rapport with children, young people and school staff
Act as a Mobile Music School brand ambassador in schools
Complete all necessary paperwork relating to our programmes and internal systems
Key Skills Required
Excellent teaching skills
Can work on own initiative
Proficient computer skills
Excellent communication skills
Strong management and leadership skills
Ability to work as a brand ambassador for & active promoter of the Mobile Music School
Experience
Experience of teaching children, young people and teenagers in a group setting is desirable
An Bhfuil Gaeilge Agat?
As the Mobile Music School offer our music workshops and programmes as Gaeilge, we are particularly seeking tutors who are proficient to teach music as Gaeilge.
Get in Touch With Us Today
If you are looking for a music tutor job and are interested in joining the Mobile Music School, please email shay@mobilemusicschool.ie to request an application form.