Here at the Mobile Music School, we pride ourselves on delivering high quality music education programmes nationwide. Not only do we deliver workshops, short programmes, and classroom music programmes, we provide music resources for primary schools as well.
Music Resources For Primary Schools
Our music resources for primary schools are designed to help teachers to teach music in the classroom. Considering music resources for primary schools can be difficult to find, this means that many teachers struggle to teach music. Further to this, the challenge is finding resources that are firstly fun and engaging, and secondly, educational. However, there's no need to worry! We have decided to share our resources completely free of charge! This blog post can be adapted into a lesson plan to bring the world of music into your primary school classroom!
Our Composer Series
Our brand new composer series introduces students to the world of composing! Focusing on a well known composer every two weeks, students will learn all about the background, history and work of some of the worlds most famous composers! This series is a great way for students to gain an understanding of how music is made, and an appreciation of all different genres of music. Further to this, students also gain an understanding of the culture and history surrounding the music. This week, we will be learning all about Chopin, one of the most famous composers of all time!
What is a composer?
A composer is a person who writes and creates music.
Frédéric Chopin
Frédéric Chopin was one of the greatest pianists of his day. Chopin was born in a town just outside of Warsaw, Poland. His mother introduced him to the piano; by the time he was six, Chopin played extremely well and was starting to compose. He even gave his first concert at the age of eight!  He was a very good pianist, and also a piano teacher. The music he composed was either for solo piano, or for piano with other instruments. He composed lots of short pieces, and Chopin is well known for his melodies and deep expressions in his piano music.
When Chopin was 20, he left Poland to seek fame and fortune in other European cities, and when Chopin got to Paris, he decided to stay. He loved his time in Paris, however, Chopin was sick most of the time. Further to this, he was only thirty-nine when he died. Many believe he died of tuberculosis. When he was buried – in France- a special box of earth was brought from Poland to sprinkle on his grave. But Chopin's heart is in Poland- literally. His heart was put in an urn and taken to the Church of the Holy Cross in Warsaw.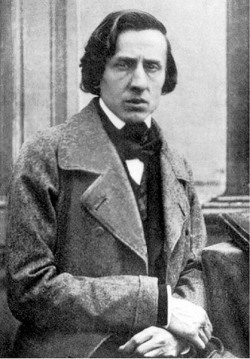 The only known photograph of Chopin (1849)
Music resources for primary schools: Activity
Ask class 'does anyone in this class play an instrument?' Encourage them to describe what instrument they play, what songs they know etc.
Ask class 'has anyone ever written/composed a song before?'. Break class into groups and tell them they are to write a few lines of a song. The class teacher can give each group a topic. Students can then write some lines together as a group, with or without a melody. Each group can then perform their song.
Tell class that next week we are going to be listening to some of the pieces that Chopin wrote.
For more teaching resources, contact us here.