Our guitar lessons for schools are an excellent way to commence instrumental tuition, as they aim to improve each pupil's technical and musical ability in a fun and calm environment. Mobile Music tutor Kevin has been teaching Group Guitar and one-on-one Guitar Tuition to both beginners and improvers in Stratford NS and Rockford Manor.
After-school Group Guitar
Our after-school Group Guitar students in Stratford NS are mastering some of the fundamentals of guitar, such as depressing fingers and transitioning correctly. The group are extending their chord knowledge and strumming patterns by practicing 'Can't Stop The Feeling' by Justin Timberlake.
This month in Rockford Manor, the guitar group have taken some chords from 'Castle on the Hill' by Ed Sheeran, and extended them to use for 'Fast Car' by Tracey Chapman. Even with the high level of difficulty involved in these songs, the students are enjoying it and practicing hard. To finish up, the group will look at some other general application of flatpicking and fingerpicking.
One-on-one Guitar Tuition
Kevin has been working one-on-one with guitar students as part of an extra-curricular music programme. He has been covering different approaches to practicing guitar, and re-iterating the importance of slow and deliberate practice. Students have already seen the benefits of this, as they've shown a significant improvement in their dexterity in playing open chords.
Kevin has also covered the basics of sight-reading on the guitar in neck position one, utilising all the natural notes of C major in that range. Next month, some of his students will begin to cover some rudimental guitar sight-reading to tie in with their piano playing and to establish some essential rhythmic dictation skills.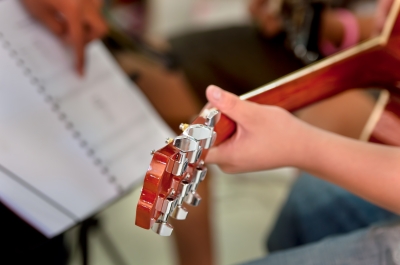 More from the Mobile Music School
This year, the Mobile Music School are offering even more after-school music programmes to primary schools, secondary schools and preschools. If you require more information, please contact us to discuss these options in further detail.
Related posts:
Guitar and Glee Club in Donabate Girls' NS
Guitar Tuition in Stratford NS