Our African drumming workshops combine rhythm games, voice work and percussion. Using hand drums and a variety of African percussion instruments, students are immediately immersed into the world of music-making.
African Drumming Workshops
These African drumming workshops aim to enhance each child's musical and rhythmical ability in a fun, non-pressurized environment. By playing hand drums, learning simple rhythms and creating their own rhythms, students can learn about rhythm and discover their unique voice and beat.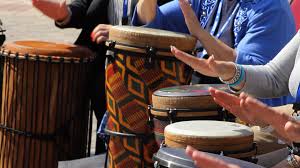 Encouraging Teamwork and Creativity
Our experienced, professional music tutors place a strong emphasis on team-building. Working together as a group creates a calm environment where pupils feel comfortable expressing themselves. With these hands-on, active sessions, students can gain confidence in their own creative ability.
More from the Mobile Music School
The Mobile Music School are currently taking bookings for 2017/18. If you have any queries about our drumming workshops, please contact us to discuss these music workshops in further detail. For additional information about our music workshops for schools, please see our Primary School page, Secondary School page or FAQ page.
Related posts:
Transition Year Workshops: Music Education Made Fun
Music Workshops for Language Schools