Seachtain na Gaeilge 2018 was another great success this year for the Mobile Music School! Our team of tutors had a ball delivering music workshops as Gaeilge to both Primary and Secondary Schools across Ireland. Our busiest time of year, Seachtain na Gaeilge is a great opportunity for us to fuse our passion for music with our passion for Gaeilge.
Seachtain na Gaeilge Workshops
One of our most popular music workshops for schools during Seachtain na Gaeilge is Let's Drum. Through games, activities and performing, our drumming workshops allow primary school students to explore the percussion family, develop their understanding of rhythm and improve their rhythmical ability, whilst performing as part of a drumming ensemble.
These sessions incorporate station learning and ensure that each child gets an opportunity to play four instruments. Each workshop culminates in a live end-of-workshop performance that combines the different rhythms and activities covered during the sessions.
As well as drumming, we also delivered a range of Let's Sing workshops and Learn & Explore workshops as Gaeilge.
Music Workshops for Primary Schools
We worked in a wide range of Primary Schools this year, from Dublin to Galway, Cork and more! Here's a list of some of the Primary Schools we had the pleasure of working in for Seachtain na Gaeilge:
Gaelscoil Thulach na nÓg
Gaelscoil an Chuilinn
Gaelscoil na Camogie
Gaelscoil na Lochanna
Gaelscoil na Mí
Gaelscoil Thaobh na Coille
Gaelscoil Cholmcille
Gaelscoil Eadoin Doire
Gaelsscoil Dhún Dealgan
Scoil Naomh Iosef, Galway
Scoil Neasain
Castlepollard NS
Hospital NS
Rathdown School
TY Workshops
Seachtain na Gaeilge also saw us delivering some energetic TY workshops. We were invited to the following schools to deliver fun-filled drumming workshops as Gaeilge:
Ursuline College, Cork
Moyle Park College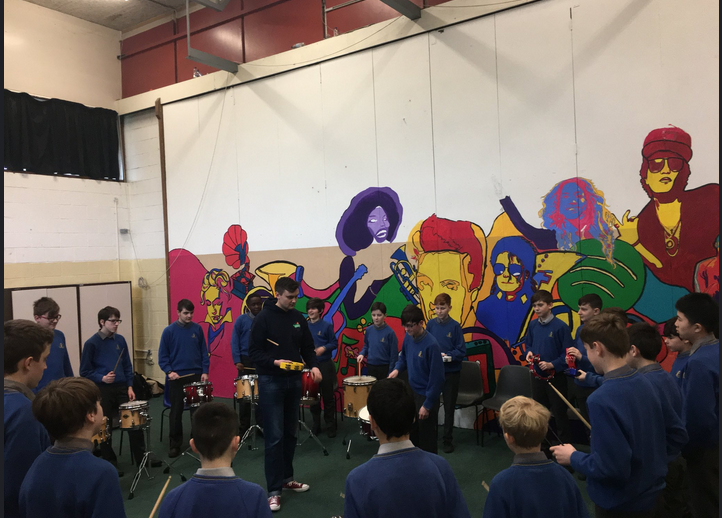 Mobile Music tutor Ben Delivering a Let's Drum TY workshop in Moyle Park College
Twitter
Check out our Twitter feed and follow us to see videos of our Seachtain na Gaeilge workshops in action!
More from the Mobile Music School
If you are interested in booking any of our music workshops for your schools' arts week, friendship week, etc., please contact us to discuss these options in more detail. For more information on our workshops, please see the Primary School and Secondary School pages of our website.
Related Posts:
Which Drumming Workshop is Right for Your School?