Our violin lessons are back in full swing this term! This year, both Rush & Lusk ETNS and Marist Primary School have invited us back to deliver Violin in the Classroom. In addition to this, some of the school teachers will also be included in the weekly music lessons with Karen and the students. We are delighted to be continuing these Music in the Classroom programmes, as well as taking the next step with our students on their musical journey.
Violin in the Classroom – Violin Lessons for Schools
Over the years, Violin in the Classroom has proven to give students a strong sense of achievement by equally developing their technical and musical abilities as violinists. With each of our violin lessons, pupils are immediately immersed into the music-making process. Furthermore, each class works together in an open group environment that radically develops their musical awareness, as well as their self-esteem and confidence as musicians and creative thinkers.
Rush & Lusk Educate Together NS
This year will see us back in Rush & Lusk ETNS for our 4th consecutive year! Not only have two new groups of 2nd class joined us, but also two teachers who are new to violin. The enthusiasm was high among the students, as they were excited to get their hands on the violins. The students have already played their first piece of music called 'First Performance'. To celebrate all their hard work, two students were awarded with 'musicians of the month' certificates for their great effort. Overall, the beginning of their journey of music discovery has gotten off to a great start.
Marist Primary School, Crumlin
At the start of the year, the students got cracking on preparations for their first violin concert. With this exciting performance ahead, pupils have already been working extremely hard within the first few weeks back. The concert will involve all of our young musicians from 1st class to 6th, and we are particularly impressed with their progress to date. October will be an exciting month as the finishing touches are added to our concert preparation. So far, 15 certificates have been awarded for excellent musicianship, participation and greatest improvers. All in all, a really promising start to this new school year!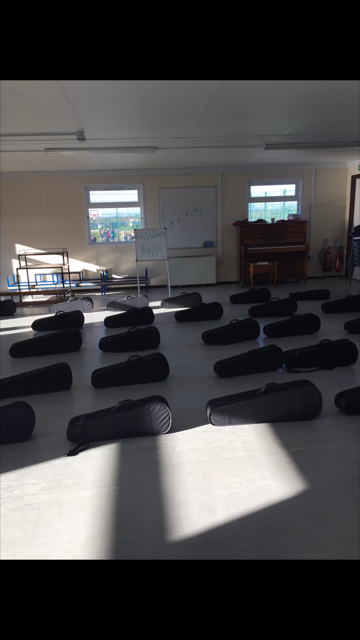 More from the Mobile Music School
To learn more about our Music in the Classroom programmes for schools, please see our Classroom Music page. If one of our music programmes if of interest to you, please contact us to discuss what we can do for you in further detail.
Related posts:
Percussion in the Classroom: Exciting Percussion Performances
The Benefits of Music Education in Schools
Recorder in the Classroom: Music Tutors That Fuel Creativity