Guitar Lessons for Schools
Our guitar lessons for schools consists of a weekly 30-minute one-to-one lessons. Lessons aim to improve each student's proficiency on their chosen instrument.
Having participated in lessons, students will notice dramatic improvements in their technical and musical ability and will be able to read music notation appropriate to their standard.
Ideal for beginners, improvers and advanced performers alike, these lessons aim to incorporate the musical interests of pupils. Students are given the option to sit grade exams, learn for fun or prepare for a state examination.
Guitar Lessons in Stratford College
Senior Students
Students made great progress throughout their first term of guitar lessons. Firstly, we looked at a range of styles and techniques, covering pieces from beginner level up to intermediate. A particular favourite for the more advanced students in the Senior School was the very trendy 'Intro' by indie-pop band The XX. Students enjoyed applying alternate picking technique to this cool melody line and we have added the chord of Dm to our chord vocabulary.
https://www.youtube.com/watch?v=AZ1pHmWhIuY
Junior Students
For the younger students, Emily and Avraham in the Junior School, we have continued to develop our chord knowledge and strumming techniques covering some pop classics such as 'Hey Ho' the Lumineers – a popular song for both my group class in Edmondstown and individual students in Stratford. A highlight of this month for me was seeing Emily learn the 'One More Time' riff from Ariana Grande. Emily is a big fan of Ariana and it is great to see her so happy while performing. Mobile Music tutor Zoe has seen her applying herself diligently after class during her practice time.
Guitar Lessons – December
Poppi learned the theme song to the hit series 'Friends' this term which was just fantastic. She not only managed to accomplish broadening her chord vocabulary – adding the tricky C sharp Minor barre chord to her growing list, but she also learned to alternately pick the riff line, which involves string swapping, a hammer-on and a pull-off! Lots of new intermediate-level techniques for a beginner student to be attempting.
Mobile Music tutor Zoe says:
"I am very happy with her progress"
Keep up the great work, Poppi!
Musician of the Month
Our guitar lessons for schools award musician of the month certs to students for their hard work. This month, Emily won the musician of the month cert. Her brother, Michael, who is a new student, is learning so quickly in class and with some extra help from Emily at home. The siblings can perform Happy Birthday together (both melody and chords) from start to finish already!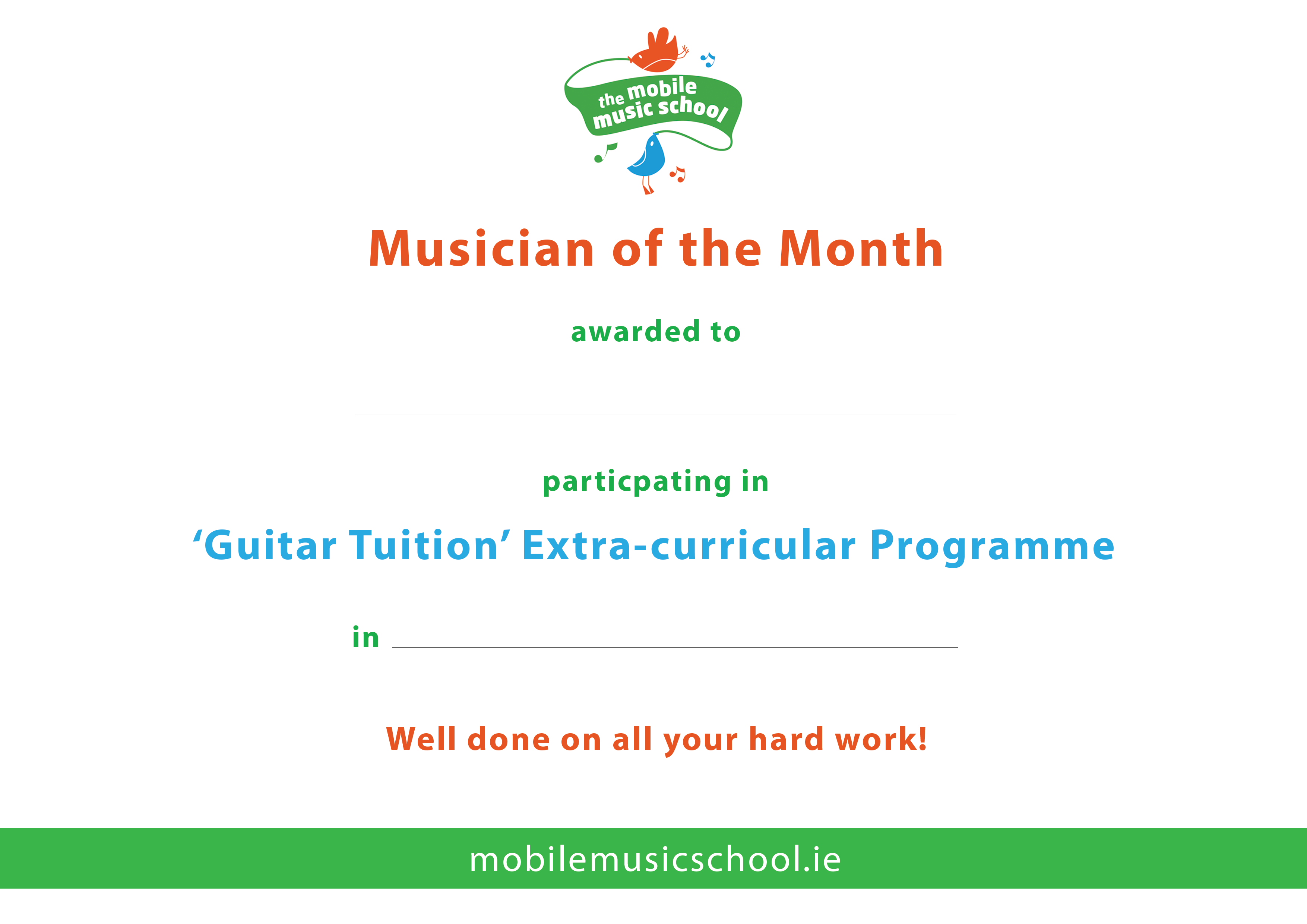 Playing Their Favourite Songs
Shane learned the Nirvana classic 'Smells Like Teen Spirit' earlier this month also – a song he has wanted to play for a long time. We did some extended study on power chords (very important for the grunge genre that Shane is so passionately influenced by).
Mobile Music tutor Zoe comments:
"It was fantastic to see his fretboard knowledge expand so quickly. I am looking forward to continuing this work with Shane into 2018."
More from the Mobile Music School
Interested in our guitar lessons for schools? To enquire about our music lessons, please contact us to discuss these music programmes in further detail. For more information, please see the Secondary School page of our website.
Related posts:
Afterschool Music Programmes: Hands-on Guitar Lessons
Our Most Popular Music Workshop for Schools Is…
The Benefits of Music Education in Schools