When it comes to Transition Year Workshops, the Mobile Music School ensures all TY students are immersed in a highly energetic, fun-filled music-making session. Whether it's drumming, singing or musical theatre, we have something to suit every school.
Team-building Transition Year Workshops
The Mobile Music School have worked extensively with Transition Year students and JCSP class groups for initiatives such as arts, culture and friendship week. As well as having a strong musical element, our workshops simultaneously act as team-building and confidence development workshops.
The aim of our music workshops is to enable students to find hidden talents and to explore music through a hands-on music session. Our experienced and professional Garda-vetted music tutors actively encourage pupils to work collectively to develop a sense of team within groups.
Upon completion we present each Transition Year coordinator with certification of participation that can be presented to the students during the Transition Year awards ceremony/ graduation night.
'Let's Drum' Transition Year Workshops in Beneavin College
The transition year workshops we offer include:
'Let's Drum'
These drumming workshops for schools are active, hands-on and interactive sessions that enable students to explore the sounds of the percussion family. Transition year students will get the chance to work in small teams to create rhythms of their own, whilst developing their rhythmical ability and musical techniques.
'Let's Sing'
Our singing workshops for schools encourage students to explore their voice through set activities and songs. These transition year workshops are hugely educational to every student, regardless of their singing ability. Students are encouraged to project their voice correctly and to speak within a range that is comfortable to them – an important life skill for public speaking and debating.
'A Musical Slice'
Our musical theatre workshops for schools recreate a 'slice' of a well-known musical through singing, movement and drama. These transition year workshops aim to boost students' self-esteem and confidence in performing, while developing their creativity and showmanship in a relaxed, open environment.
Natural Rhythms
Natural Rhythms is an African drumming workshop that combines rhythm games, voice work and percussion using hand drums and a variety of African percussion instruments. Students are immediately immersed into the world of music-making, where they learn about rhythm and discover their unique voice and beat.
These African drumming workshops aim to enhance students' musical and rhythmical ability by playing hand drums, learning simple rhythms and creating their own rhythms in a fun, non-pressurized environment.
Samba Sounds
These dynamic samba workshops explore the magic of the traditional street samba of carnival. With each 45-minute session, students will learn how to play samba's Afro-Brazilian rhythms. Both exciting and soothing, these percussion workshops include sections of a wide variety of percussion instruments.
These hands-on, active music workshops are full of fun from start to finish. Our samba workshops are an excellent way of getting every student involved in an energetic and interactive music-making session.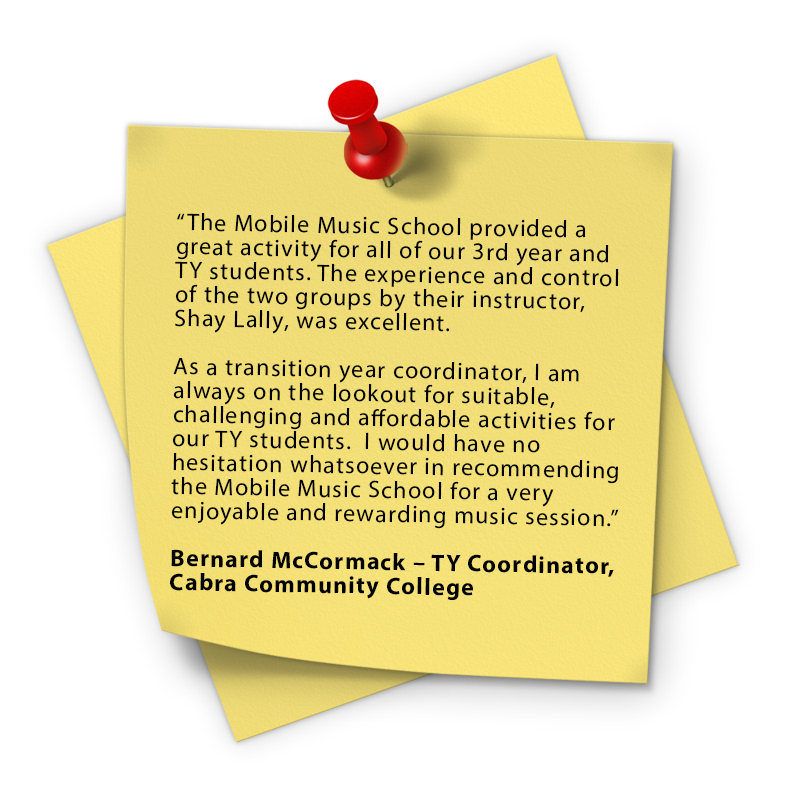 More from the Mobile Music School
To discuss these Transition Year workshops in further detail, please contact us to discuss our music  workshops in further detail. For more information, please see our Transition Year Workshop page, or our FAQ section.
Related posts:
TY Workshops: 'Let's Drum' with Killina Presenation Secondary School
TY Workshop: 'Let's Drum' with Coláiste na Coiribe