Among the many musicians we admire, Robert Gupta and Nathaniel Ayers are two in particular who spark our interest. We are intrigued not just by their talented musical abilities, but also by the way they use the means of music to transcend the world around them.
Making his solo debut with the Israel Philharmonic at the age of just 11, violinist Robert Vijay Gupta then went on to join the Los Angeles Philharmonic at 19 and graduated from Yale with a master's degree in music. Not only a professional musician, Gupta acted as a Research Assistant at the Harvard Institute of Medicine Centre for Neurological Diseases and CUNY Hunter College in New York City after graduating with a degree in Pre-Med. Part of many biochemical pathology and neuro-degenerative biology projects, this man has many strings to his bow!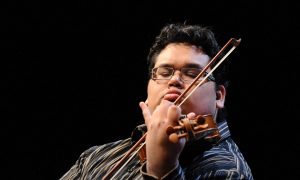 However, it's his passion for outreach that we admire the most. Upon reaching a fork in the road to his career, Gupta found a bridge between music and medicine. Working as both a musician and a mental health activist, he came to find himself in the privileged position of working with the wonderful Nathanial Ayers, as his violin teacher.
You may be aware of Ayers' inspiring story as it's portrayed in the film, "The Soloist", starring Jamie Foxx and Robert Downey Jr. Like Gupta, Ayers also has a prestigious musical education background. He became a double-bass student at the Julliard School for the Performing Arts alongside world-renowned cellist, Yo-Yo Ma. Ayers was known to have the potential to join any of the Big Five but, unfortunately, while on his scholarship he became afflicted with symptoms of schizophrenia. His unstable mental state forced him to drop out and subsequently become a Skid Row resident on the streets of Los Angeles. His hopes of one day playing in a great orchestra died with his diagnosis.
Indeed, over the years Ayers was bass-less in his homeless position. However, he did manage to pick up the trumpet, cello and violin along his travels. Playing them as he found them, Ayers kept his prized possessions in his shopping cart.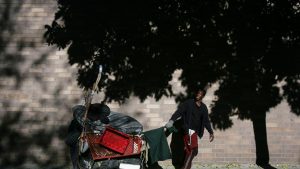 Ayers and Gupta came to know each other after meetings through orchestra administrators. Although Ayers' background and habits were initially a concern for Gupta, he volunteered to teach him. "I got a glimpse of Nathaniel's genius", says Gupta, when talking about his first lesson with Ayers.
Although Ayers hasn't managed to live out his original musical dreams due to his mental illness, his passion and love for music is still as strong as it was before his schizophrenia. For him, music is therapeutic. As Gupta has proven in his research and work with his own non-profit organisation, Street Symphony, when it comes to the homeless, mentally ill and the incarcerated "the beauty of music offers them a chance to transcend the world around them." Journalist for the LA Times and long-term friend of Ayers, Steve Lopez, says, "he has an advantage over other people with mental illness because he has a passion…music brings him peace and relief and sanity."
Ayers has since been helped off the streets with thanks to the LAMP community and Housing works, a non-profit Hollywood organization that found him a home. "I've got my problems, but I wanna be free", Ayers admits, "I wanna be back out there, using every moment as if it's the most precious thing in the world. I don't have any time to waste."