British-bred band, Coldplay, have become a worldwide sensation since their inception in 1996, selling millions of records, winning numerous of highly acclaimed awards and partaking in many global charity campaigns. Their unique image, story, and sound (described by Chris Martin himself as "limestone rock" in comparison to "hard rock") have made them one of the most successful bands of the millennium.
As we take a look at their educational background, it's interesting to find that in fact none of the Coldplay members studied music at third level. Indeed, all four members were students of University College London. Chris studied Ancient History, Jon read Maths and Astronomy, Will was an Anthropology student, and Guy trained to be an engineer. They formed the band and continued to make music during their time at college. In the same year as their graduation from UCL they were already tipped as a band to watch by NME and were signed to Parlophone Records.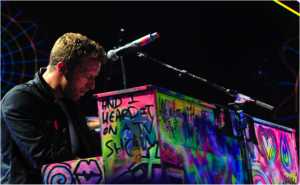 Front man, Chris Martin, had dreamed of becoming a musician since the early age of 11. Better known as the band's lead vocalist and pianist, Chris has also been playing acoustic and rhythmic guitar since his early teens, as well as the harmonica and keyboards. Son of a music teacher, Martin grew up with a passion for music and formed his first band in prep school. It was during his freshman year at UCL that he met guitarist Jonny Buckland and they formed the band now known as Coldplay.
Jonny, the band's lead guitarist and backing vocalist, also plays the keyboards, harmonica and acoustic guitar. Whilst studying music at A-level during his time at school, Buckland's talent for composing music and playing the guitar was spotted early on. With his stylistic chiming and ringing sound, sparse arrangements and use of slide, he succeeds in creating the unique sound that Coldplay is so famous for.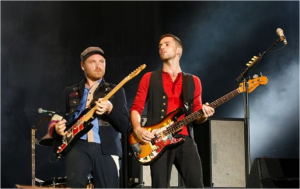 Although Guy Berryman is known as the band's bassist, he prefers to play the guitar. Not only this, but Berryman also played the trumpet and drums during his time at school as part of the school band. And in case you were wondering, no, the trend of multi-talented band members doesn't stop here!
Coldplay's percussionist, Will Champion, grew up playing the piano and violin from a young age, learned to play the guitar in his early teens and also gained experience on the bass and tin whistle. What's fascinating about Champion's musical background is that he never learned to play the drums until he joined Coldplay in his late teens. Despite being born into a musical family, he couldn't enjoy any musical lessons as he struggled with reading music. Instead, he watched his teacher's hands on the piano and memorized the sequences, playing each song from memory.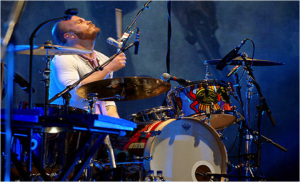 Although some may think the difference between playing the piano and the drums is somewhat like chalk and cheese, Champion admits that his early piano playing days heightened his coordination for his hands and feet, giving him a whole new perspective on drumming in music that sets him apart from other percussionists. "It's about being right for the music", says the multi-talented musician, whose extensive musical training and particular sensitivity to a song's melodic elements lead him to the perfect position that is Coldplay's percussionist. Indeed, there are drummers more technically skilled than him but no one can better compliment Martin's voice and Buckland's compositions like Champion can.
"Our sound will change, but all we care about is melody and emotion", explains front man, Chris Martin. As musicians, ourselves, we not only admire Coldplay's diverse range of musicality and supreme technical skills but most importantly we applaud their deep passion for the music they believe in.
The Mobile Music School team is aware that each student learns, plays and approaches music in their own unique way. That's why our team of professional teachers is dedicated to delivering fun, interactive, energetic music training that is tailored to your needs.