Our violin lessons in Marist Primary School had students preparing for their music recital this month. With lots of practice and hard work week-on-week, the pupils put on a very impressive performance for their parents and peers.
Violin in the Classroom – Violin Lessons for Schools
Over the years, Violin in the Classroom has proven to give students a strong sense of achievement by equally developing their technical and musical abilities as violinists. With each of our violin lessons, pupils are immediately immersed into the music-making process. Furthermore, each class works together in an open group environment that radically develops their musical awareness, as well as their self-esteem and confidence as musicians and creative thinkers.
November News
This month was our school recital. In preparation for this, our music students were working so hard all month, and even had to do some overtime. Every class from 1st to 6th got to perform in front of their peers and parents. Some people were feeling a little nervous but when it came to show day you really couldn't tell. Since September, our weekly violin lessons with Karen have boosted students' confidence and performance skills week-on-week.
The parents didn't get off too lightly either. We taught them a few conducting skills and even caught them out with a little brain game, which they actually found quite hard!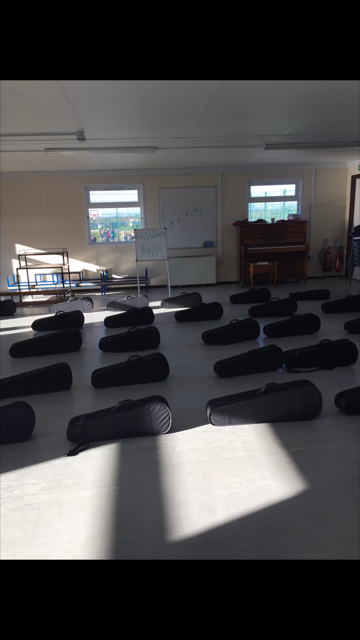 Overall, we were very proud that we were able to do the show from start to finish without any help. The girls from 5th and 6th class were our MCs for the afternoons and Sr Anne was kind enough to help with our public speaking.
It was such a pleasure to see the students' musical progression from 1st to 6th class. Hopefully, we will be able to have another performance soon but for now we have the heads down and are already thinking of our next challenge, the Cara Awards.
More from the Mobile Music School
To learn more about our violin lessons or other Music in the Classroom programmes for schools, please see our Classroom Music page. If one of our music programmes if of interest to you, please contact us to discuss what we can do for you in further detail.
Related posts:
Percussion in the Classroom: Exciting Percussion Performances
The Benefits of Music Education in Schools
Recorder in the Classroom: Music Tutors That Fuel Creativity