As drums excite every child, our percussion project has proven popular with girls and boys alike. Each student is given the opportunity to perform on their chosen instrument during percussion ensemble performances.
Percussion in the Classroom
Percussion in the Classroom is a BIG HIT in schools and sees each class receiving a weekly interactive 30-minute class. Students are taught how to read music notation, play in time, and develop their rhythmical, musical and technical knowledge whilst playing a variety of percussion instruments.
These classes teach children how to read music notation, play in time and play in parts, whereby the class is divided up and each group has its own music to play.
Curriculum-based Music Programmes for Schools
Like all our programmes, these classes intertwine the three core elements of the primary school music curriculum – listening and responding, performing, and composing. Encompassing many elements from our short music programmes – 'Let's Drum', 'Let's Sing' and 'Learn & Explore' ensures that the world of music is explored in a fun, calm and structured manner.
Percussion in the Classroom Music Tutor
Creative director and music tutor Shay has been delivering percussion programmes and drumming workshops as part of the Mobile Music School since 2011.
Our drumming workshops for schools has brought us to Dublin, Louth, Meath, Carlow, Kildare Offaly, Kilkenny, Wexford, Wicklow, Waterford, Cork, Limerick,Tipperary,  Kerry, Galway, Laois.
Shay comments:
"One of the most rewarding aspects of my job is teaching music lessons to the kids. It is great to see young students develop their skills and become proficient in playing an instrument. In addition, the children also become more comfortable performing in front of an audience which is very valuable for public speaking later in life. There really is so many benefits to providing music education in schools and I'm glad to be a part of it."
Shay Lally
Shay has also been invited back this September to Gaelscoil an Bhradáin Feasa to deliver Percussion in the Classroom for the 5th consecutive year. As well as weekly music lessons and end-of-programme performances, Shay has also been involved in preparing the students for other public performances.
Cleas Act
Last year, our music students appeared on TG4's 'Cleas Act'. With the Cheer Squad performing the song 'Cheerleader' as Gaeilge, our group of percussionists accompanied the 6th class groups as they sang.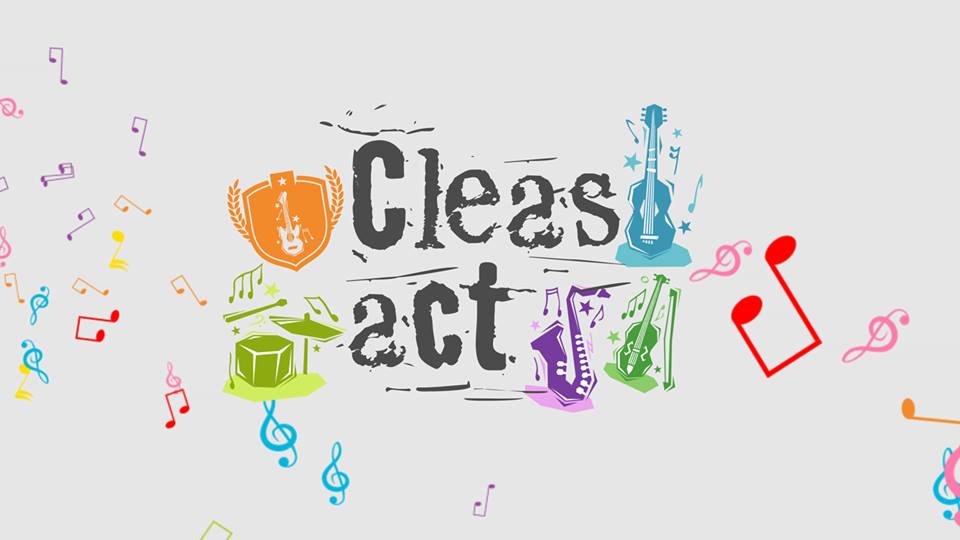 Our Drummers in Droichead Arts
2016 also saw our drum line from Gaelscoil an Bhradáin Feasa perform with Shay in the Droichead Arts Centre. Spread across two days and four performances, our drummers in rang a haon and rang a trí performed for family, friends and parents, along with other local primary and secondary schools.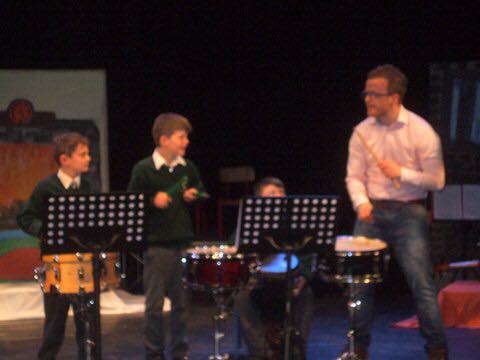 Testimonials
"The Mobile Music School have been delivering Percussion in the Classroom with the children in our school since 2012. During this time their explosive teaching style has gotten every pupil participating with music in our school. Music is an important subject in our school and thanks to the Mobile Music School all of our children can read music notation and attained a high level of musical and aural awareness."
Siobhán Ní Dhúill – Principal, Gaelscoil an Bhradáin Feasa
See what other people are saying about us on our testimonials page.
More from the Mobile Music School
To learn more about our Classroom Music Programmes for Primary Schools, please visit our Classroom Music page. If any of our programmes are of interest to you, please contact us to discuss these options in further detail.
Related posts:
Our Drummers in Droichead Arts
'Percussion in the Classroom' in Gaelscoil an Bhradáin Feasa
Gaelscoil an Bhradáin Feasa prepare to perform on 'Cleas Act'