The Mobile Music School has extensive experience delivering Music in the Classroom to primary schools throughout Ireland. Our curriculum-based music programmes for primary schools ensure the world of music is explored in a calm, child-centred manner. Here at the Mobile Music School, we believe music education in schools should be interactive, energetic and full of fun for the students.
Curriculum-based Music in the Classroom
Classroom Music projects run over the course of the school year and consist of between 24 and 34 weeks of tuition. Set on the three core strands of the primary school music curriculum these classes focus on listening and responding, performing, and composing. Encompassing many elements from our short music programmes – 'Let's Drum', 'Let's Sing' and 'Learn & Explore' – Music in the Classroom is a great way for children to learn about a variety of music disciplines that they may never have been exposed to previously.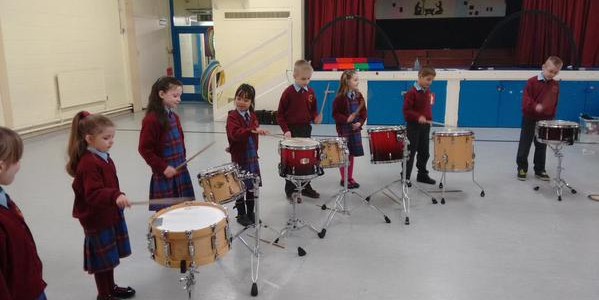 Primary School pupils enjoying a drumming workshop as part of their Music in the Classroom programme
Professional Music Teachers
Our highly qualified and experienced music tutors are all Garda-vetted. Each Mobile Music tutor aims to encourage students to actively participate in the music-making process. Our methodology for teaching makes it easy for children to learn the fundamentals of music in an environment that encourages growth and personal development.
Scroll through our homepage to learn more about our range of music teachers.
Music Resources for Primary Schools
Our music lessons are beneficial to classroom teachers too. Many teachers have commented on how the classes have given them new ideas for their own lessons, which have fostered a renewed sense of confidence teaching music. In addition, the Mobile Music School provides complementary lesson plans to teachers at participating schools to help them with their learning programme.
Over the past number of years we have successfully delivered this programme in many schools across Ireland. Our tried, tested and regularly updated music schemes and lesson plans have been enjoyed by in excess of 4,000 pupils already! We are delighted to be invited back to schools year after year, due to the success of our music lessons in schools.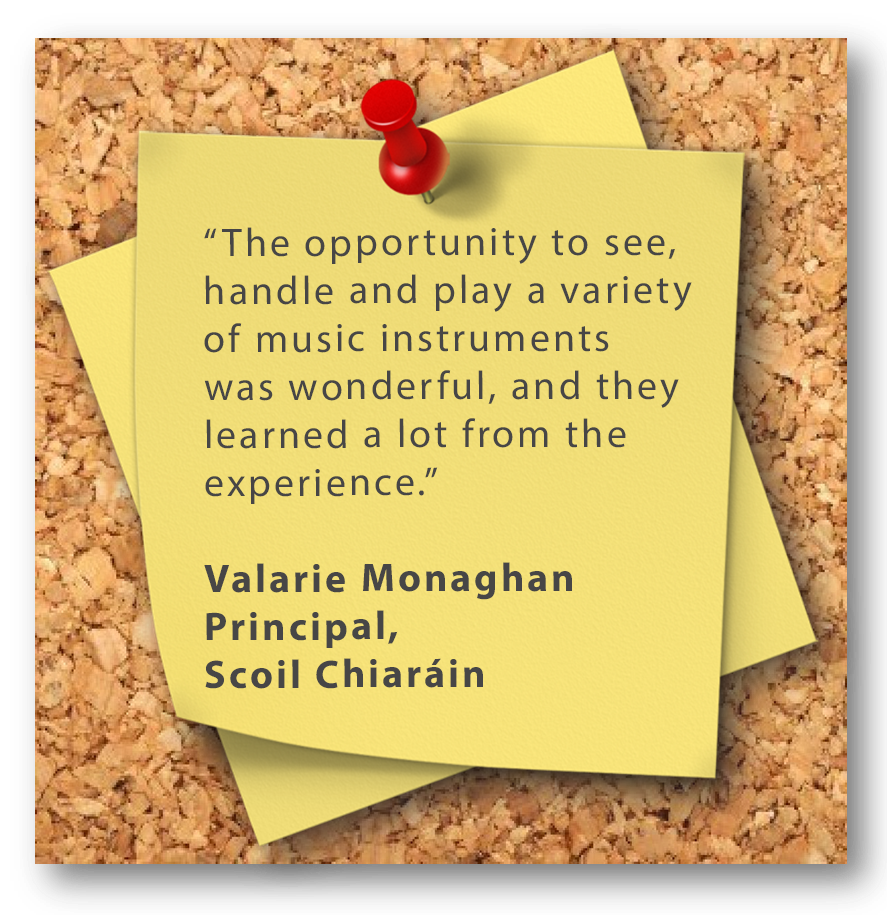 "The Mobile Music School have been delivering Percussion in the Classroom with the children in our school since 2012. During this time their explosive teaching style has gotten every pupil participating with music in our school. Music is an important subject in our school and thanks to the Mobile Music School all of our children can read music notation and attained a high level of musical and aural awareness."
Siobháin Ní Dhúill – Principal, Gaelscoil an Bhradáin Feasa
See what other schools are saying about our music lessons for primary schools, here on our testimonials page.