Built on 15 years experience, the Mobile Music School have found that music learning yields many benefits to both children and adults alike. Whether we play it, sing along to it or just listen to it, music gives wings to the soul and flight to the imagination.
Playing music is what some may call a 'neural workout'. Our focus on developing dexterity in each workshop/programme enhances students' fine motor skills and sensory functions. As they progress and continue to practice, noticeable improvements can be seen in their hand-eye co-ordination, as well as their long term memory.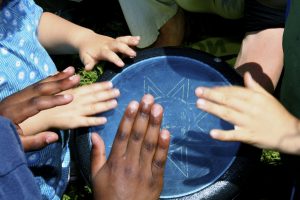 It has also been proven that music training significantly increases auditory attention, which may be beneficial for students with learning disabilities and for those who are easily distracted by background noise. From our experience of working in Special Schools across the country, we have found that the process of learning music not only gets students actively engaged, but it also betters their attentiveness and perseverance in the classroom. This, in turn, leads to improved discipline and a much more enjoyable school experience.
When it comes to our end of session performances, our tutors always encourage participants to perform to the best of their ability and only at a level they're comfortable with. This practice in performance increases ones self-esteem, making them more capable of taking risks and dealing with any fear or anxiety they may have. With this boost, some go on to join a band or orchestra, which offers a great sense of community and involvement to all.
For many, music is a form of escapism. The Mobile Music School offers an easy outlet to fight stress with our wide range of workshops and programmes whether it's a fun, once-off, team building event or an extra-curricular class for your own personal musical development.
Above all, artistic education is vital for the development of ones imagination and creativity. It forms passion, pride, and is a means of personal expression for some. As Plato once said- "Music is a defining element of character", we couldn't agree more!