Our music workshops for language schools merge music and English to create educational, interactive and fun music sessions that encourage every student to take direction and communicate effectively.
The Benefits of Music Education on Language
We believe that when it comes to developing a foreign language, music training plays a significant role in learning the grammar, vocabulary and pronunciation of any language. Not only does music strengthen the brain's neural activation but it also focuses one's listening skills, resulting in better auditory and memory attention. These advantages have proven to be highly beneficial for students looking to improve their fluency in English.
Mobile Music Workshops for Language Schools
The workshops we have on offer for language schools include 'Let's Drum', 'Let's Sing' and 'Learn & Explore'. With each of our music sessions, students find that the link made between familiar songs and new information significantly aids their vocabulary. Practicing and communicating with one another results in participants quickly adapting to the English language and lingo in an easy going, non-pressurised environment.
Our tutors here at the Mobile Music School place a great emphasis on the relationship between music and language development, as well as its social advantages. Our interactive, energetic, group workshops equip participants with a set of skills that enable them to feel linguistically, musically and socially competent enough to perform at the end-of-session demonstration. We aim to promote a sense of fun through music so that each student comes away with a boost in confidence and self-esteem when both performing and speaking publicly.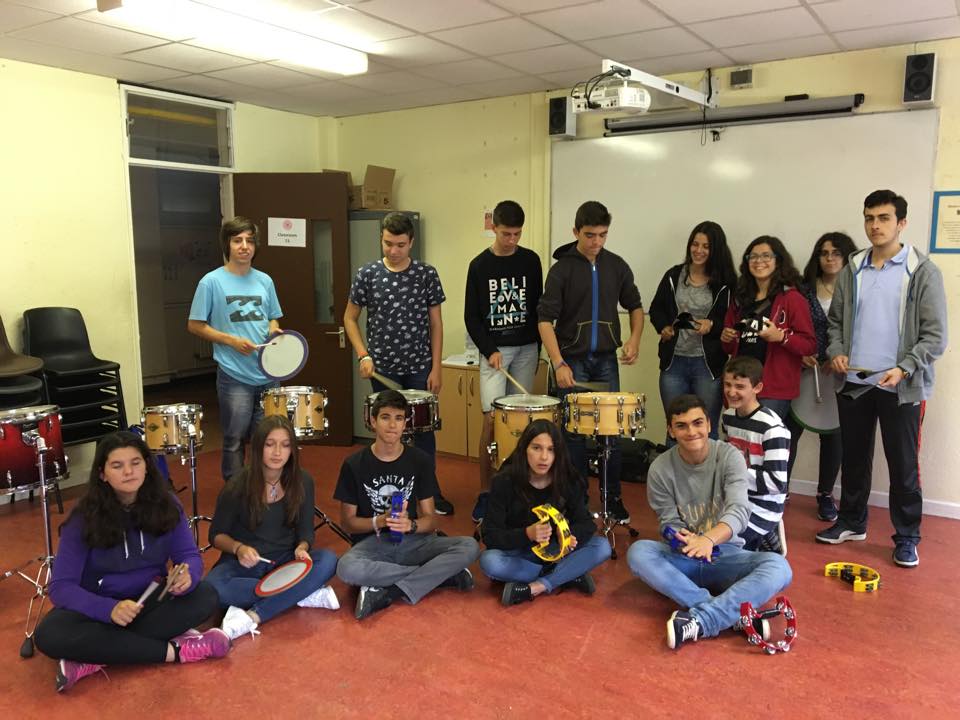 An interactive, fun-filled 'Let's Drum' Music Workshop in Atlas Language Centre
More from the Mobile Music School
No matter what your ability may be, the Mobile Music School has something for you. For any queries you may have regarding our music workshops for language schools, please contact us or see our FAQs.
Related posts:
Bilingual Music Workshops for Schools
Music Workshop Series in Atlas Language School