What a great festive class we had for Halloween at Busy Beavers!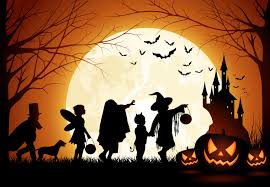 Joanne dressed up to a great affect and the pupils got to be scary witch conductors wearing a hat and using witchy hands to tell the class when to sing loud, quiet and to stop.
Using a 'broom' or two for crochets and two small pumpkin treat baskets for quavers 'pumpkins', Joanne let the children instruct her as to what needed to go on the floor to represent words such as 'Black cat'- Broom, broom, or 'Ghost Sto-ries – broom pumpkins. By the end of the session the children could clap the rhythm, call it out in ti's and ta's and see that, visually, the floor items matched what they were saying.
Rewards for good work were in the form of marching to a Halloween song and hiding (crouching) for any gaps (rests) in it. The class then finished off the lesson with a good game of musical scares!
To enquire about a 'Little Musicians' programme for your school, please contact us- admin@mobilemusicschool.ie