Based on 15 years' experience, the Mobile Music School are expert in the delivery of music workshops for primary schools. From drumming workshops to singing workshops and musical theatre, we have a music workshop to suit every school.
Our most recent music workshop series was held for the students of St. Francis Xavier School, Coolmine, and Blakestown Primary school. The four workshops were attended by the 5th and 6th class students, with each group size ranging from 24-30 children.
Introduction to Instruments
During the workshop, the pupils learned about various stringed instruments, with a special focus on the Violin.  After listening to a live performance of both classical and Irish traditional music, the children had the opportunity to examine a violin for themselves.  The students then listened to a recording of the Lorde song "Royal" played on Viola, Cello and Double Bass.
Classical Composers
The children learned about the composer Charles Saint-Saens, and listened to his composition "The Elephant".  We discussed how Charles Saint-Saens used the instruments to enable us to imagine an elephant dancing.  We looked at the sheet music for this piece and discussed the tempo, dynamics and articulation markings on the sheet music.  The children also listened to Vivaldi's "Spring", and we discussed the imagery evoked in this piece also.
Class Composition
After looking at several scores, and learning about tempo, dynamics and articulation, the group created a class composition based on an animal. The children made their own musical Instrument using shoeboxes, and rubber bands.  They then experimented with the different pitches created by thin/thick and loose/tight rubber bands.
A big thank you to all the staff in Draíocht who were so friendly and helpful throughout the two days!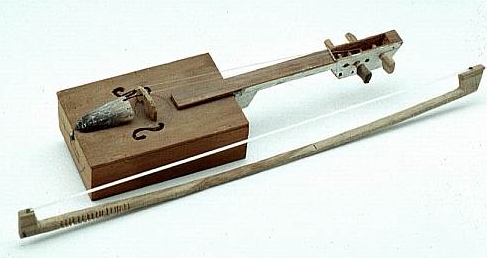 More from the Mobile Music School
If you would like to learn more about our music workshops for primary schools, please contact us to discuss these options in more detail.
Related posts:
How to make your own Shoebox Violin
RhythmWorks @ the National Concert Hall