Here at the Mobile Music School, we have had an amazing first term of 2022/23, delivering music classes and workshops for schools nationwide! Further, we've had some amazing highlights from our first term of the year. Above all, children nationwide got to experience our amazing classroom music projects! Read on to learn more!
New Team Members
Firstly, we were delighted to welcome new members Ian Kinsella and Jacqui Whelan to our team!
Our Let's Explore Science and Music Workshop
Secondly, this year, our fantastic tutor Karen developed a brand new workshop, in conjunction with Science Week  in Louth Libraries! These workshops were delivered in Drogheda and Ardee Libraries on Saturday the 12th November, with MMS Tutor Karen facilitating the workshops.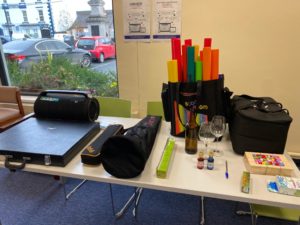 Schools visited
Thirdly, from September to December 2022, we were delighted to have worked in:
29 schools and 7 libraries and events, over 8 counties, delivering 29 workshop days, and 18 programmes!
Considering this, we were absolutely thrilled to have worked in so many classrooms this year, delivering our high quality music programmes and workshops for schools and libraries/events.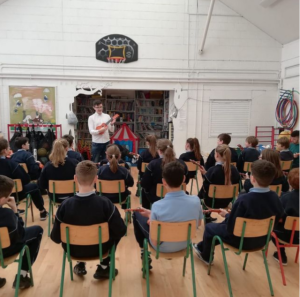 Feedback
Fourthly, we received lots of kind feedback this term- we've selected a few testimonials to share below:
"Fantastic class in Drogheda Library!"- Parent of workshop Participant
"I just wanted to contact you regarding Karen, who came in for violin lessons on Friday. Everything went very well, and both the children and the teachers were delighted with the experience' – St Patrick's JNS, Corduff.
"Thanks again for a great set of workshops, the students really enjoyed it"- Drogheda CBS
"I would just like to thank you and Karen so far for the last few weeks of Glee. The children are really enjoying it, and love working with Karen every week"- Sharavogue Junior National School
The PLAYground Orchestra Project made a comeback
Fifthly, our PLAYGROUND orchestra project was back this year! This project is a hugely successful music project for primary schools. The PLAYground Orchestra programme has been a huge hit across Dublin 15. Further, this project stresses the importance of primary school music, and exposure to classical musical for children. This programme saw us bring a 29 piece orchestra plus a singer and a conductor to twelve schools in Dublin 15. In addition, this project was run in association with our projects partners, Draíocht. Delivering two live performances a day across eight schools in Dublin 15, and three extra performances in the Draíocht, we were delighted to be back with the Orchestra!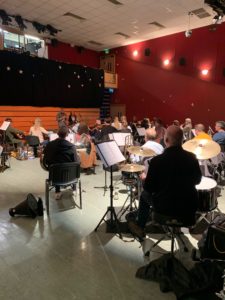 Term 2 and 3 for 2023
We are really looking forward to coming back with a bang in 2023! We are available for music workshops, and classroom music programmes. The workshops and programmes we are currently offering are Let's Explore, ukulele, percussion, drumming, and singing at primary level. In addition, we are offering ukulele, percussion, singing and drumming at secondary level.
In conclusion, we had an amazing first term, and we can't wait to be back in 2023!
Interested in booking a programme or workshop with us for 2023? Contact us here.