This fun-filled music lesson is a great way to introduce children to rhythm and music notation that is relatable to them and their world. The lego beats act as both a visual and physical representation of music notes.
Grasping the concept of eighth notes, quarter notes, dotted notes, etc. can be very difficult and frustrating for young musicians. However, with this simple play learning approach by Let's Play Music, children can have fun figuring out the fractions involved in music notation by building them up from eighth notes to whole notes. Not only is this ego piece fun to make as a learning tool, but the finished lego blocks also acts as a great reference tool whenever they need help remembering the notes.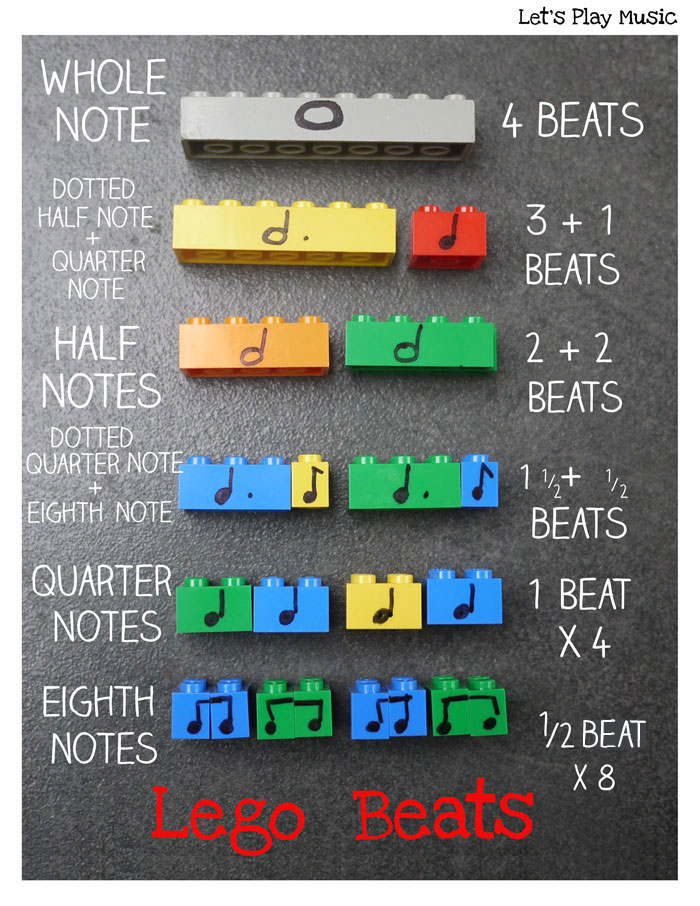 The Benefits of Play Learning
Research shows that children are playing-learning individuals. Learning comes naturally when they are actively engaged in a playful environment. When children engage in play, they are more motivated to learn and develop positive attitudes towards learning.
Play learning is hugely beneficial for children as they become immersed in the fun-based activity and learn without even realising they are learning. It is recognised by teachers and music educators alike that children benefit so much more from a lesson when they're enjoying it. When an activity is self-directed, and when the children have autonomy over what they are doing, their capacity to learn is enhanced.
Here at the Mobile Music School, we find that play learning enables children to learn at a pace they're comfortable with, while still being challenged.
Play Learning with the Mobile Music School
The Mobile Music School actively promotes fun-based learning in all the music workshops and programmes we deliver. Our educational workshops for schools are child-centred and activity-based music lessons. This holistic approach ensures each music class is both interactive and educational, engaging students throughout the music-making process.
Our team of professional music teachers create a positive learning atmosphere where children feel comfortable experimenting with music and expressing themselves in an open, relaxed environment.
More from the Mobile Music School
If you would like to learn more about our educational music workshops for schools, please see the Primary School, Secondary School or Preschool pages of our website. To discuss these options in more detail, please contact us.
Related Posts:
The Kodaly Method: Fun Hand-Signing Games
How to Make Your Own Shoebox Violin